High Quality Tarmac Driveways in Bedworth & Surrounding
The driveway is ordinarily the first part of your property that visitors will see, especially if they arrive by car. You should consider getting in touch with the H Jones Landscapes, a reputable local installer of tarmac driveways in Bedworth if your current driveway requires much needed attention.Tarmac driveways are an excellent choice, known for their ease of installation, exceptional durability and neat appearance.. Our high quality tarmac drives also have the added benefits of being waterproof, virtually maintenance free, smooth to drive upon and safe for pedestrians.
Meticulous Preparation
Laid by our hugely experienced team, H Jones Landscapes drives will meet all of your expectations and even exceed them in most cases. This is because we adhere to a thorough preparation schedule, making use of only high grade materials. You can rest assured that each and every one of our tarmac driveways in Bedworth receives our full care and attention. Our strong work ethic forms the basis of our excellent local reputation, and this is evident in every project we undertake.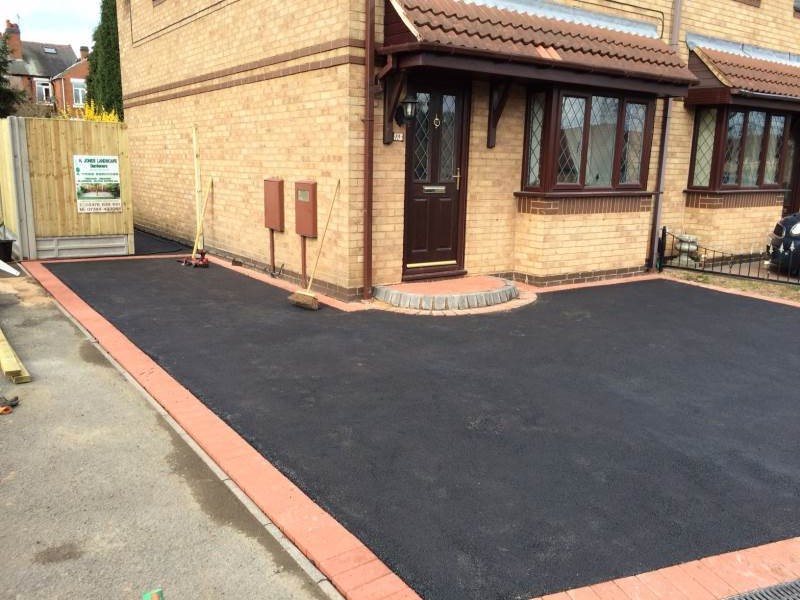 Premium quality tarmac drives require thorough preparation beforehand. First, the ground must be excavated to a suitable depth to form a strong foundation. We dig out to the specified 250mm depth and remove all debris from site to leave your entrance looking neat and tidy.
We then put down a geotex membrane, to keep the weeds at bay, before laying and mechanically compressing 100 to 150mm of MOT Grade 1 aggregate. Only then do we apply the tarmac, starting with a 50mm layer of course tarmac, containing larger stones. Finally, we add a layer of fine or 'topping tarmac,' consisting of smaller stones. This 30mm layer is mechanically compressed to create the smooth, attractive surface that we all associate with a properly laid tarmac drive.
Tarmac Driveway Designs
You may already have a precise idea of how you want your drive to look, but if you are struggling for inspiration, our considerable experience of laying tarmac driveways in Bedworth and beyond puts us in an ideal position to provide truly expert advice. In addition to the surface of the drive itself, H Jones Landscapes offer a range of border options, including high quality block-work, to enable you to frame your driveway and give it that personal touch.
Contact H Jones Landscapes

Available 7 days a week for site surveys and quotations you can contact our team any time for tarmac driveways in Bedworth.