Block Paving in Bedworth 
Are you considering renovating a driveway? A new patio installation from which to enjoy your garden? Or perhaps installing a striking garden pathway? If the answer is 'yes' to any of those questions, then you should consider block paving in Bedworth from H Jones Landscapes. Block paving's inherent versatility and practicality means it can be used to great effect in a variety of landscaping projects, helping you to achieve an aesthetically unique yet sturdy look. H Jones Landscapes block paving will design and create the ultimate paving scheme for you.
Transform Your Home Driveway
When installed by experienced, qualified professionals, block paving in Bedworth can make your home look spectacular. As a versatile material it can be used with an array of enhancing features such as natural woods and lighting features, all of which can be discussed at your personal design consultation. The driveway is the first thing visitors see when approaching your property, and in this respect block paving is the ultimate home improvement. Not only does it add value and more kerb appeal to your property, it will make you smile upon returning home.
Expert Guidance from Inception to Completion
The work that we do, whether paving or landscaping, is likely to be a significant financial investment, and not the type of project you will be tackling too many times. You may know exactly what you want, or just have a vague idea.
At H Jones Landscapes, we don't just build and install, we will help you create a design that you will enjoy for years to come. From our first site visit, we will work with you to:
Create a layout that's both functional and elegant.
Choose a style from a wide range of paving materials.
Include original features that will make the site more appealing and functional.
We will always provide a written specification and quote before you decide to employ us.
Customisable Bedworth Block Paving Installations
With a vast array of colours to choose from, the possibilities are only limited by your imagination. Our experienced team will work with you to make your dream garden become a reality.
At H Jones Landscapes we have the knowledge, experience and ability to achieve this. With our personal quotation service, we can design your bespoke drive or patio, whether it's a bespoke creation or a simple enhancement, both will look spectacular. H Jones Landscapes regularly create amazing driveways and patios. The quality of our workmanship is above industry standards, yet you will derive further peace of mind from understanding that our work is insurance backed and fully guaranteed.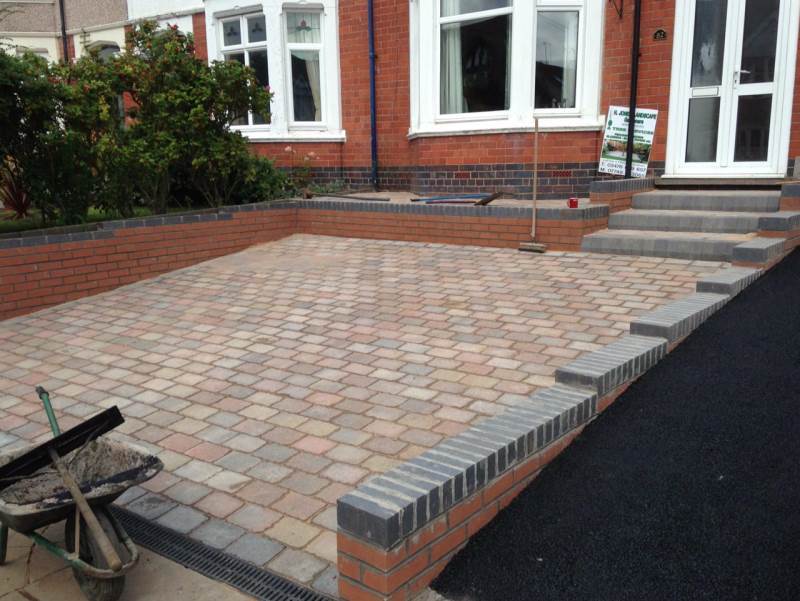 Contact H Jones Landscapes Today
If you're considering block paving as a material for your new driveway, patio or garden path project, contact our friendly team today on 07748 433065 to discuss your requirements.